Our Mission
Meeting Point Acupuncture is committed to providing the highest quality healthcare experience possible. We strive to make acupuncture an affordable healthcare option for everyone. We do that by offering a sliding scale of $20-$40, you pay what you can afford on that scale (there is an additional $15 fee for your initial visit).
Community Style Acupuncture

Community Style Acupuncture is acupuncture performed in a community setting, the way it has been practiced in China for thousands of years. Our clinic is modeled after Working Class Acupuncture, a community clinic in Portland, OR. At Meeting Point we have a beautiful semi-private community room with several massage tables and recliners. In this setting several people can receive treatments at the same time; this creates a healing energy (Qi). We talk in low voices in the community room in order to respect privacy. By practicing community-style acupuncture we are able to keep prices low so you can afford to receive acupuncture as often as you need to get and stay healthy.
Other Services Offered:
Tuina Bodywork Therapy: Tuina (Twi-Nah) is similar to massage therapy, but incorporates the theories and observations of traditional Chinese medicine. It has a long history of use, having its roots begin even earlier than acupuncture! It is a very effective and enjoyable healing therapy for most injuries, pain, and stress. Learn More..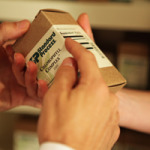 Nutritional Consults: Understanding the nutrition of history's healthiest cultures and the emerging research on modern health concerns, we develop personalized nutritional protocols using high quality food based supplements and practical dietary guidance.  Learn More…